With the capability of our group companies manufacturing and a team of highly skilled expertise, Sun Jump is able to work and service as a worldwide marketing arm for more than 10 China's leading manufacturers of machineries, equipment and consumables related to corrugated industry. We know a single source for all the products means a lot to overseas clients, in this way they reduce costs and save time, avoid importing risks and costly errors in mismatched equipment. When plants use a single source, they decrease input but maximize output.
Solutions Provider
Sun Jump offers the best solution for your manufacturing needs, and then advises the appropriate equipment to meet your specifications. The goal is reduction of cost per cardboard with the new equipment and systems recommended to every single client.
China Sourcing
China is the center of manufacturing in the world, nobody else can make better quality machines or parts at lower cost other than China. As an expert in the industry for almost 2 decades, we completely know who and how could be your best choices in the industry. Besides Sun Jump products range made in house, we also work closely with more than 10 leading manufacturers, which ensures our capability of meeting most of your corrugated and converting needs.
Field Services
Sun Jump offers in-field-service supports to our clients around the world, besides aftersales service on products provided by Sun Jump, our sales executives and technical expertise make periodic trips from region to region; we offer installation, repair and training services on almost all machinery made in Taiwan and China mainland, and other countries. Definitely, our service rate is most competitive.
Facilities Upgrades
Upgrading the performance of an older facility is a cost-effective solution, you never need to accept the low quality cardboards and ineffective facilities and systems. The upgraded corrugator components usually bring you advantages more than: increase of productivity, quality improvement, waste reduction, reduction of per cardboard cost, and optimization of process etc. As a specialist, Sun Jump has the knowledge and experience of how to upgrade and optimize your operation.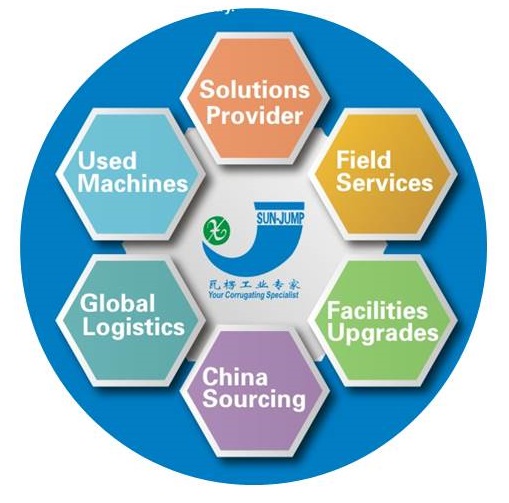 Used Machines
Over 4000 corrugators have been constructed in China during the years, now more and more of used machines are available in the market. Investment on cheap used machines with good quality, it helps you grow business faster with lower budget. Sun Jump offers a broad range of used corrugated and converting machinery, which includes corrugators, carton making machinery, slotters, flexo folder gluers, diecutters, balers, and others.